Davis Legacy Partners With California Storm
Davis Legacy Soccer Club and Women's Premier Soccer League (WPSL) club California Storm announced a strategic partnership with the goal to provide the best soccer environment and development opportunities for both organizations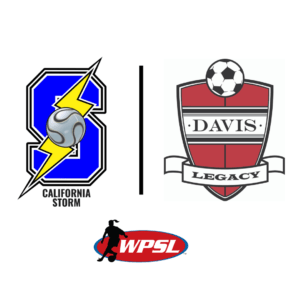 FOR IMMEDIATE RELEASE
CONTACTS:
David Robertson, Davis Legacy I 530-574-0201 or drobertson@davislegacysoccer.org 
Jamie LeVoy, California Storm I 530-401-1004 or jamie@calstormsoccer.com
CALIFORNIA STORM AND DAVIS LEGACY EMBARK ON A STRATEGIC PARTNERSHIP. 
SACRAMENTO, CALIF. (March. 15, 2021) – Davis Legacy Soccer Club and Women's Premier Soccer League (WPSL) club California Storm announced a strategic partnership with the goal to provide the best soccer environment and development opportunities for both organizations. The Davis Legacy Soccer Complex will become the official home of the California Storm, providing accessible training and playing opportunities for current California Storm players, with access to games for Legacy families and an opportunity for Legacy players and Alumni to progress their game.  Both groups will collaborate on outreach and community programs, and provide camps and clinics with the shared mission of creating more opportunities for girls and women in the community to play the game of soccer.
"We are excited to partner with such a quality club that has a similar mission and values as ours," said California Storm Executive Director Jamie Levoy. " Both of our organizations want to empower girls and women, and Davis legacy has a professional leadership team and the best soccer facilities in Northern California. This partnership will allow us to create more opportunities for female athletes."
David Robertson, Executive Director for Davis Legacy, said about the new partnership, "We very are excited to embark on this relationship with the Storm and provide a pathway for women players who want to pursue high-level playing opportunities whilst in their senior years of club soccer, through college and beyond. This coincides with our club's goal of developing and providing lifetime soccer opportunities and fulfills one of the objectives of our strategic plan of having both a mens and womens soccer program available to our members.  We are honoured to be affiliated with such a well respected organization both here in California and throughout the Country."
Both Davis legacy and California Storm are working on some exciting initiatives which will be announced in the coming weeks. To stay connected:
California Storm
Davis Legacy
About Davis Legacy
The Davis Legacy Soccer club is a 501 (c) (3) soccer organization, based in Davis, California.  Davis Legacy's mission is to Provide the highest-levels of quality soccer training for players and enhance their social, emotional and physical health, in a positive and safe environment. Davis Legacy fosters a soccer learning environment that teaches creative, attacking, and possession-style soccer built on a foundation of strong technical skills.  
Davis Legacy is a "Players 1st" designated club by US Club Soccer, and operates 50 boys and girls youth soccer teams between the ages of 8 and 19 who compete in the Elite Clubs National League (ECNL), National Premier League (NPL) and NorCal Premier League.  Davis Legacy also operates a Men's First Team as part of the United Premier Soccer League (UPSL).  All Davis Legacy teams train and play matches at the Tsakopoulos Family Soccer Complex, also known as the Davis Legacy Soccer Complex, which is a privately owned and operated 63-Acre soccer facility in Davis, California that boasts 16 full sized and professionally maintained grass fields.  
About California Storm
The California Storm of the Women's Premier Soccer League (WPSL) is Sacramento's premiere women's soccer club. Their mission is to inspire and empower girls by building self-confidence and leadership skills through the game of soccer. California Storm players come from many different backgrounds including amateur college standouts to former national team players to world-wide recognized professional players. From Ghana to Greece, international players from around the world seek a position with the California Storm. The Storm storied roster has included FIFA third best in the world all-time ranked player and Brazilian star Sissi to World Cup and U.S. National Team World Champions Brandi Chastain, Alex Morgan, Leslie Osborne and Julie Foudy.
Outstanding college and post-collegiate athletes continue to choose the California Storm, year after year, to stay in shape and to build on their current skills. This has included standout female college soccer players from Stanford, Santa Clara University, Cal, UC Davis and Sacramento State to name a few. The WPSL is the world's largest women's soccer league with more than 100 clubs as it enters its 22nd season in 2020.