"When you walk around town in Davis Legacy shirts, people know you…that was a huge lesson that Robbo taught us from a young age, just to represent who you are and what you value. That's something I took away from being in a small community and representing my club. I always felt proud to play for Davis Legacy. There was also a lot soccerwise that I learned…every time I go back now, it's like home, I feel so comfortable. It's where I want to spend most of my time when I'm in Davis, just out there training – the environment that has been created over the years is unreal. I just love the club so much and wish that I could go back and keep playing. It's hard to be done now."
– Former Davis Legacy (2006-18) and Cal Poly winger Brooke Rubinstein
As the temperature begins to dip down to bearable levels with the Delta Breeze flowing in, the floodlights illuminate, revealing a playing surface so green that it could serve as a fairway for the PGA's next major tournament. Children of all ages wearing red and white pack the newly-installed grandstands, most sitting with their teammates, some with their families. All eyes from the triple digit-sized crowd focus their attention toward the center of Field 7, the sun's last rays at their back. The referee blows his whistle to start the game, while simultaneously beginning the USL League Two era for Davis Legacy Soccer Club.
The hosts come out on the front foot, dominating the San Francisco Glens in all aspects of the game. Just 12 minutes in, a cross is deflected toward the top of the box into the path of outside back Riley Cooper. The defender, running at full speed, unleashes an unstoppable volley from 20 yards out, bringing the crowd of roughly 150 to their feet when it hits the back of the net. Cooper rushes to the corner flag, leaps up into the air, and karate kicks the flag into the ground. Two ball boys, members of the 2009 and 2010 Legacy ECNL teams, raise their arms in the air as Cooper celebrates right in front of them. Maybe someday it will be one of them scoring an impressive goal in a semi-pro or even professional match.
Legacy doubles their lead in the 70th minute with a close range strike from Ethan Hord and as the hosts appear on their way to winning their inaugural game in USL League Two, head coach Mark Torguson makes a substitution. Waiting at midfield to enter the match is 2005 ECNL striker Simon Vaca-Lorenzi. The high school junior just finished his penultimate year at Davis Legacy and is undecided about where he'll continue his soccer career, but for the last few minutes of the game, he soaks up the experience of playing against fully grown men, most of who are veterans of NCAA Division I soccer. It's the final step in his pathway as a player at Davis Legacy.
Unfortunately for the hosts, the Glens stage a late comeback and score two goals in the last 10 minutes of the match. The game ends 2-2 and Legacy are forced to wait a bit longer for their first-ever USL League Two victory. But that wait time pales in comparison to how long it took the club to get to this point in the first place.
Three years earlier, there were no stands for fans to watch the Legacy men's team play their matches, nor did the club have a partnership with the California Storm to field a women's first team. Five years earlier, neither Field 7, nor the three surrounding it, had lights that would have allowed for a night game to take place. Twelve years earlier, the pristine field the men drew San Francisco Glens SC on, along with 12 fields, was farmland that the club planned to develop to use as additional parking. Twenty-seven years ago, this whole space off of Chiles Road slowly decayed as a run-down drive-in movie theater on the outskirts of town. And over 30 years ago, Davis Legacy Soccer Club existed only in the minds of a few dedicated local coaches who one day hoped to provide an alternative to the existing recreational soccer programs in the city.
It's late May of 2022 when Vaca-Lorenzi makes his USL League Two debut and by this time, Davis has long since established itself as a soccer hotbed. Mention Davis to an outsider and thoughts of farmland, a top-ranked university, and bike lanes will come to mind. But in that same vein, they'll inevitably think of soccer. For a city with just over 60,000 people, Davis punches well above its weight in the national soccer conversation and much of that can be directly attributed to the formation and continued success and growth of Davis Legacy Soccer Club.
The story of Davis Legacy Soccer Club is the story of a small group of area parents and coaches going against the grain in the hopes of establishing a competitive program in the city. The story of Davis Legacy Soccer Club is the story of a massive infrastructure project built through slow, sustained growth. But more than anything, the story of Davis Legacy Soccer Club is the story of the hundreds of local families who have contributed to make the community a better place to grow up playing soccer.
This story is their Legacy.
Before Legacy
"The club is built on the foundation that Ashley built. I don't know how many other directors were out there watering the grass or doing all the dirty work. He cares about the club and cares about the people and goes out of his way to do things for them. He always made the club feel like family – it's always about family for Ashley. He's just so humble."
– Legacy Executive Director David Robertson
Before 1989, if a Davis resident wanted to participate in competitive soccer, they had to travel outside of the city. While Davis AYSO had provided programs and teams that served thousands of children for nearly a decade, no local alternative existed for those who wanted to play a longer season or above the recreational level. There was one team that played competitive soccer from Davis, run by local coach Dave Middlesworth, but that team had to do so under the Dixon umbrella as the California Youth Soccer Association's rule at the time was that each city needed a minimum of five competitive teams to form their own league.
At the same time, though, the city cried out for more access to high-level soccer, so local AYSO coaches and parents, Jim Bruner, Carlos Castenedas, Manuel Lagunes, and Ashley Yudin approached Middlesworth to discuss further options. "The theory was that if we were really going to build better soccer players," Bruner said, "then we were going to have to step up and form a competitive team that played in a competitive league like all of the towns around us." While Middlesworth's team had just graduated, it was decided by the three budding coaches to go forward with incorporating those three original teams, the Cosmos, the Raiders, and the Red Raiders, under the Dixon Soccer Club umbrella.
Initially acquiring field space proved to be one of the first major hurdles due to the sheer scope of the local AYSO program. More than 2,000 youth players occupied dozens of the city's park space on weeknights for practice and on Saturday mornings for games. Davis AYSO had a decade of proven success under its belt and had never faced any local competition for the dozens of city-owned soccer fields around town. The startup competitive program may have only comprised a fraction of teams and players as AYSO, but it still faced initial pushback from those wishing to maintain the status quo, and Bruner and Co. were initially rebuffed when they went to the city to request field reservations.
After one year of the three teams struggling to begin their competitive adventure, two more joined the cause, meeting the minimum five-team requirement. Davis then applied and was granted permission in 1992 to form the Davis Youth Soccer League. Middlesworth's prior connection with German soccer meant that the league chose its primary colors based off of those worn by the German national team. With a league finally set up, the leadership set a list of three lofty goals to achieve within its first decade of existence:
Form boys and girls teams in every age group.
Create a home of their own to avoid any field space conflicts with the popular AYSO program.
Win at least one CYSA State Cup championship.
Beginnings
By the year 2000, the Davis Youth Soccer League had achieved all three of the goals, but not without some ups and downs along the way. Securing its own dedicated soccer space so early in the club's existence was particularly notable. Not only was this accomplished faster than the majority of soccer clubs in the United States, from grassroots to professional, but it happened at a time when interest in soccer across the country hadn't even risen high enough to facilitate Major League Soccer, which kicked off a year later.
In 1995, local Davis Waste Removal owners Paul Hart and John Geisler purchased a run-down drive-in movie theater south of I-80, just a few miles west of the Causeway. Though they bought the property privately, they did so because DWR needed an area to store local grass clippings before they were transported to Stockton. After realizing that they needed just a fraction of the land area to accomplish this, Hart and Geisler approached DYSL leadership to see if they could potentially develop the site into the home the fledgling soccer club had been looking to find.
The site had seemingly been left untouched for years, necessitating a plethora of work to render it playable. Coaches, parents, and even youth players worked in shifts to break up and haul out chunks of asphalt that blanketed the landscape. Surely none enjoyed the manual labor, but it would prove a labor of love as everyone pitched in to do their part.
By the end of the summer, thousands of volunteer hours later, the asphalt was no more and with the help of the late local plant nursery owner Tommy Bassinger, the surface was leveled using a small tractor. Irrigation was installed, bermuda sprigs were planted, and then it was time to wait. Not wanting to disturb any growth, DYSL members were met with 10 acres of eye-level weeds come springtime. DYSL parent Bob Nordhausen and his two sons, Christian and Michael, weeded the entire plot over a two month period, and all of a sudden the DYSL had its first home, the three field set that is now known as Pod A. "I remember breaking up that asphalt to be carried out in nuggets to make way for the sod to be laid down," said former player Nate Boyden (1991-95, 97-98). "I remember my first game on that field, the goal I scored on that day, it's a good memory. It was a good goal too, far right banger…(the fields) became my happy place."
Added fellow former player Jalil Anibaba (1998-2005): "When it came to the fields…it was like playing on clouds."
These clouds, however, aren't easy to maintain and ever since 2000, the man responsible for ensuring that kids like Anibaba enjoy the best playing surface possible has been groundskeeper Tony Camarena. Few of those who benefit from it ever see the hard work Camarena puts in, as he makes it his home during the day while everyone else is at school or their day job. Yet most days when coaches arrive to teach the next generation, they find the fields with either a fresh cut or paint job thanks to Camarena. "The fields, which are his, are a major reason for the club's success," Yudin said. "These are clearly the best fields around and it is 100 percent Tony. When you bring up Legacy to other coaches, they never mention coaches, directors, teams, they simply say it is the best fields we have ever played on. Tony installed the irrigation, planted the grass and trees, and still maintains it all to perfection."
During the whole field-making process, the DYSL continued adding teams in each age group, eventually filling out all of the boys and girls age groups close to the end of the decade. However, CYSA regulations mandated that the DYSL develop a recreational league as well. With the already-popular AYSO program in place, DYSL leadership thought it imprudent to attempt to fix something that wasn't broken. Long negotiations with the powers that be allowed AYSO to serve as DYSL's recreational program on paper, a decision that pleased all parties involved. With their first and second goals met, the only thing left for the Davis Youth Soccer League to accomplish was goal No. 3: win a State Cup championship.
For anyone under the age of 30, the name "Davis Sidekicks" might not ring any bells, but back in the 1990s, the Sidekicks dominated anyone who dared stand in their way. Rarely did a month go by without some mention of the team in the Davis Enterprise as the Sidekicks won competition after competition, advancing from the local level to the regional level, the state level, and finally the national level. And while those who lift trophies for Davis Legacy might not know it, this group of girls paved the way for their current successes – the Davis Sidekicks was the town's first local soccer juggernaut and to this day remain one of the area's most successful teams.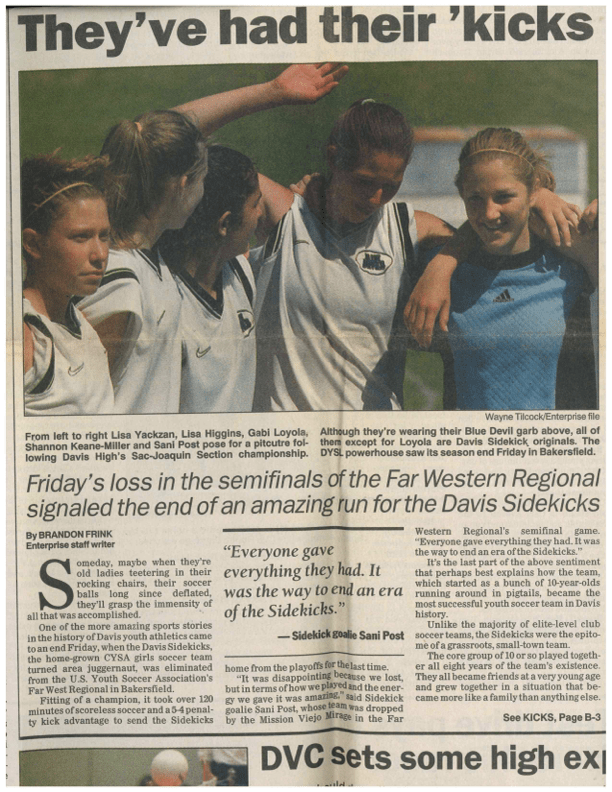 From 1996-1999, the Sidekicks won four straight State Cup titles, becoming the "it" team in Northern California while helping put the Davis Youth Soccer League on the map in Northern California. In a novel move at the time, rather than coach the team himself, team manager and parent Jim Bruner hired former women's college players to coach the Sidekicks. First there was former UC Davis player Jessica McConnell, who was followed by former college soccer star Sandy Valles. What resulted was a professional environment where the players traveled together, ate meals together, and focused mostly on their own development while attending tournaments. "Parents were allowed to come to tournaments," Bruner said, "but the girls were there on business so they always stayed together with the coach."
Wanting a more year-round experience for the team he created, Bruner began using his local contacts to help the DYSL soccer complex open for winter training as well. After renting a portable generator for lighting that first winter, Bruner was able to convince PG&E to donate and install the wooden poles that currently stand on Pod A. With lights, what was once a drive-in movie theater quickly became one of the few places in the greater Sacramento area that could host soccer teams year round. What had started as a breakaway league from Dixon featuring just five teams was now a true soccer destination for those who wanted to better their skills. The four State Cup titles certainly didn't hurt either.
"So many people wanted to come play because they were going to get so much attention from college coaches – some of them got full ride scholarships," Bruner said. "We had players from other towns who would come to tryouts, players from as far as Santa Rosa. That ruffled a few feathers, but we had tryouts and that's the way it works. These girls had to drive to Davis every day to train, which was a remarkable commitment, but when you're winning State Cups, you get to go and play out of state, play in regionals…so it was really a healthy development."
Software Upgrade 1.0
When Ashley Yudin speaks about developing a soccer club, he uses the analogy of "hardware" and "software" to describe the progress of what is now Davis Legacy Soccer Club. If the fields, the lights, the clubhouse, and the parking lot are Yudin's version of "hardware," then hiring the right people and developing the best training system were what he considers "software."
As Bruner's Sidekicks squads, along with several other club originals, began to age out of the Davis Youth Soccer League, the budding entity began a period of slow, but sustained, growth. With the CYSA board's constant desire for its clubs to further develop their rec programs, local math teacher and Da Vinci High School co-founder Steve Lege helped found the DYSL's Metro program. Aimed at drawing in players who wanted to play at a higher level than AYSO provided, but perhaps not as high as the DYSL teams, the Metro program gave the league its first-ever defacto second teams. Just as America was going online, the league's membership nearly doubled in size with new Metro teams added almost every year. 
Near the end of the 2000's, the DYSL erected a steel structure onsite, constructing what still stands today as the Paul Sabatier Clubhouse, named after the man who volunteered his time in the early days as the local referee coordinator. It was around this time that Davis began to outgrow the original three-field complex and began talks to expand the operation. And while those "hardware" improvements would eventually come to fruition, the mid-2000's were mainly about developing Yudin's metaphorical "software."
Though Yudin co-founded the growing enterprise and ushered in a sustained period of success for all levels of soccer in Davis, he felt it prudent to bring in outside help to take the DYSL to the next level. In came David "Robbo" Robertson, who grew up as a goalkeeper on the rough and tumble fields in Scotland, where the sport was invented. Robertson initially immigrated to the United State in 2005 to pursue a teaching career, but couldn't move away from the sport he'd loved his entire life. He showed early promise as a DYSL coach and was quickly elevated to a leadership position where he modernized the club's coaching education programs while bringing a fresh perspective to the local soccer scene. At that same time, numerous directors of coaching in Northern California began discussing breaking away from the longstanding governing body of the California Youth Soccer Association. Within a year of Robertson's hire, the DYSL became one of six clubs to leave CYSA and join as a founding member of NorCal Premier Soccer, a different organization with different aims that were more focused on creating a merit-based, European-style model of youth development that included the strict objective of creating a lifelong passion for the game of soccer. With the move, the Davis Youth Soccer League was no more and introduced to the community for the first time was Davis Legacy Soccer Club.
Hardware Upgrade 1.0
What began as a wish for additional parking culminated in the first major "hardware" upgrade for the Davis Legacy Soccer Complex. As the club became more and more popular, it began hosting massive tournaments multiple times a year while the number of league and cup games played at the complex steadily grew. With the rising membership and field use, the board deemed additional parking a priority for the club to secure during the latter part of the aughts. Then president Marilyn Stebbins, alongside the Legacy Board of Directors, composed a proposal and approached the Tsakopolis Family late in the decade. The Family owned the piece of land directly north of the original three fields and were open to helping the club expand, only with a different idea in mind: If Legacy agreed to develop the whole plot of land, it could keep it. Given that the first fields took more than a year to complete, this was easier said than done – Legacy would have to get creative. 
After a discussion between several members of Legacy's leadership team, a plan was set in place for the club to reach out to its members to issue bonds, just like governments do to raise funds. "We paid an annual interest rate of six percent and in 2010 interest rates were around two percent," said current Legacy president Josh Lutzker.
"It was a 10-year note and every year we paid interest and a portion of the principal back to the note holders." By 2020, the club had paid back all those members – and non-members – it had borrowed from.  "I had a lot of friends who participated because it was six percent," Lutzker said. "I mean, you still can't get six percent."
Software Upgrade 2.0
When the Davis Legacy Soccer Complex more than doubled in size to seven fields, it became the go-to place to host soccer events in Northern California. At the time, only Mary Grogan Park in Modesto, a city-owned facility where half the fields feature artificial surfaces, could compare in size. Davis' newly-expanded venue began commonly hosting NorCal Premier Soccer events as both entities continued to grow in size, while the Legacy Tournament series started hosting roughly an event every other month in addition to the outside parties who rented the fields up to 10 times a year. Sure, more fields meant more teams and more revenue, but also larger operating costs and more required management.
In 2008, Justyn Howard's daughter, Lisa, joined the very first Davis Legacy team to play at the U9 age group. Howard, a longtime Davis resident and state employee high up in the finance ranks, initially just offered his expertise to help manage his daughter's team expenses. At the time, each family at Legacy paid different fees based on the team they were on, the tournaments they decided to sign up for, and several other variables that varied from team-to-team. It was a highly-decentralized process that meant if there were 30 different teams at the club, there were 30 different budgets and 30 different pay structures. "All of the teams were kind of doing their own thing," Howard said. "It didn't really make a lot of sense to be honest."
In 2010, the Board of Directors roped Howard into becoming the club's treasurer and he began modernizing Legacy's finances. "As I started to clean things up from an operational and fiscal standpoint, the club started to grow," Howard said. "When you start holding people accountable and making sure everything is done the same way, it's amazing how much more fair everything around the club becomes." Howard first centralized the club's payment structure – gone were the inefficient days of balancing dozens of different budgets. Instead, the family of every player who played for 11v11 Red, White, or Black team would pay the same as every other family who had a child on an 11v11 team of the same level. The fees were consistent regardless of which tournaments each team elected to play in – the club merely established parameters around how many one team could attend and basic guidelines of where they could travel.  With a more efficient and organized operational system in place, club leadership decided to take the next step to begin developing the non-soccer areas of Davis Legacy. "For years coaches were paid, but Legacy was essentially run by volunteers," Robertson said. "It was Ashley who suggested that we needed to get someone in who could help on the operations side of the organization, so that's where Justyn came in." 
Hardware Expansion 2.0
In 2015, Legacy hired Howard as the club's first-ever Director of Administration and Finance and the diligent finance professional, in partnership with the board, began the hard work of developing the complex's infrastructure. "We needed someone to run the business side of things because coaches coach and coaches know soccer, but coaches don't necessarily know how to run a business," Howard said. 
Howard's first task was to explore the feasibility of another complex expansion. Legacy envisioned a multi-use add-on that would potentially see the addition of a baseball field and other mixed-use space for the community, but that idea proved too difficult to pull off due to a variety of factors including county regulations and the environmental impact it might cause. Howard and Co. decided to instead scale back to only aim for nine additional full-sized soccer fields. The Tsakopolis Family continued their incredible generosity and Legacy could develop the land, which would yet again prove challenging. For the first time in club history, Davis Legacy turned to a bank to ask to borrow money.
"This is very hard for a nonprofit organization because most nonprofits don't have assets that they can list as collateral," Howard said. "It took a lot of networking, a lot of meetings with First Northern Bank and I want to give them a lot of credit. For a local community bank, they took the time to understand our business and they developed that relationship with us so they were comfortable enough to loan us the money. For lack of a better phrase, they took a leap of faith on us given that we had no major assets other than equipment and that was not nearly sufficient enough to cover losses if we were to default.
"They took a big risk and they haven't regretted it since and we've been able to go back to First Northern time and time again."
The nine new fields debuted in 2016, making the Davis Legacy Soccer Complex by far the largest in Northern California. Lights were added to Pod B, the original field expansion, in 2019. From there, permanent stands were added to Field 7. The club's first-ever youth recreational program, headed by Kevin Comer, launched in 2022 also thanks to the new field space. 
"If you invest in your facilities, grow your operations, and expand your programs, you generate additional revenue that allows you to hire professionally licensed coaches and provide fair wages and stable working conditions," Howard said. "In the last decade, we've nearly tripled the amount of participation in our programs and have created a crown jewel of a soccer complex that's looked at by the entire Northern California region as the best place to come and play soccer on grass."
Added former Legacy player Jalil Anibaba: "When I was starting at Legacy, the club served a specific niche of the soccer population in Davis, probably the highest caliber kids in the city," he said. "But now it's available to serve each and every kid throughout the soccer community in Davis and that's an incredible accomplishment. The sky's the limit for Legacy in terms of how much it can grow and how much more of an integral piece in the Davis community that it will become."
Fostering a Lifelong Love of Soccer
All of the new "hardware" allowed Legacy to focus on one of their core values: to create lifelong lovers of soccer. In years past, the only way for players to remain involved with the club after aging out was by becoming a coach. So in 2015, Legacy established the City of Davis' first ever semi-pro first team, one that won three straight local league championships and ultimately missed out on U.S. Open Cup qualification by a single game. Looking to upgrade their competition level, Legacy decided to join the United Premier Soccer League (UPSL) in 2019, where they have since won two straight league titles and made deep runs into the national playoffs, including a quarterfinal exist at at the hands of LAFC Academy, the feeder club to the LAFC MLS team.  
There are no signs of slowing for Legacy's first team, having recently joined USL League Two, a developmental league for college-level players looking to join a USL Championship team, for the start of the 2022 season. "The first team has grown leaps and bounds over the past six years," said head coach Mark Torguson. "We started in a local NorCal league and now we compete in both the UPSL and USL League Two. It's nice to be able to provide that pathway to see these players continue their careers at Davis Legacy without needing to go elsewhere."
In 2021, the club also partnered with California Storm, an established women's amateur team that the likes of Brandi Chastain, Julie Foudy, and Sissi have suited up for. With Storm's addition, Legacy now also featured a first team pathway on the girls side of the club. "It's important for the players to be able to see adults succeeding at the club, we're really just trying to build a football culture," Robertson said. 
In addition to the Storm first team, the new partnership also saw the creation of a reserve team, Storm II, that Robertson and Girls Director of Coaching Jesus Mata would co-coach. "Players would finish their youth careers with us and we weren't really able to do anything but say, 'goodbye' and 'good luck,' " Robertson said. "We didn't really have a place to help them continue to play. There's nothing for graduating seniors between club soccer ending in May through the beginning of the college season in July. Now our players can get training free of cost."
Though University of California center back and former Legacy player Cailin Bloom (2015-21) is just one player, her experience at Legacy and the Storm is indicative of what many top-level players experience after aging out of youth soccer. The Legacy/Storm partnership began during her senior year of high school, allowing her to supplement her ECNL trainings and games with legitimate first team soccer. "Storm has allowed me the opportunity to meet such amazing people who are also playing at a high level," she said. "Having the chance to train all summer and prepare for Cal has been a big help. Most of the Storm players are current or former collegiate athletes so I got the inside scoop on what it takes to be an athlete in college and that helped me a lot mentally."
Success Stories
While the list of former Davis Legacy players who have made an impact at the next level is certainly extensive, perhaps none have matched the longevity and impact of the aforementioned Jalil Anibaba, an MLS veteran and a defender for the Columbus Crew as of 2022. The "Anibaba" name is one synonymous with soccer in Davis and for good reason. Anibaba's father, Jammal, an immigrant from Nigeria, first began coaching at the club nearly two decades ago and continues to do so to this day. As the youngest of three kids, including brother Jamil and cousin Sule, who he refers to as "brother," Jalil began his journey at Davis Legacy playing up multiple age groups with them. While Jamil and Sule would both sign to play at UC Davis, with the latter playing a major role in the Aggies' first two NCAA Division-I Tournament berths in any sport, Jalil honed his craft to the point where he became a four-year starter at national collegiate powerhouses Santa Clara and North Carolina.
After a Final Four appearance his senior year, Anibaba was drafted No. 9 overall in the 2011 MLS SuperDraft by the Chicago Fire. As of 2022, he had appeared nearly 250 times in the league for the Fire, Seattle Sounders, Sporting Kansas City, Houston Dynamo, New England Revolution, Nashville SC, and the Crew while winning three major trophies with his clubs. 
"Playing up (with my Jamil and Sule at Legacy) is what literally shaped my game and what forced me to shed bad habits at a very young age and what kept me humble and kept me engaged and challenged and always learning," the MLS defender said. "The first thing that my brothers and I noticed was how great the fields were compared to the other fields in town. They definitely helped my technical development when I was at that age, when I was eight, nine, 10, 11, 12, that's when you really refine your technique and reps on a top class field."
While Anibaba may currently be the most successful to come through the program, he's hardly the only success story. His path may have been blazed by the slightly-older Nate Boyden, who would graduate from Legacy to star in an NCAA Championship game with UC Santa Barbara before playing for the (second division) A-League version of the Seattle Sounders. Though Boyden currently serves as the Youth Technical Director for the Chicago Fire, he spent his last two years back at Legacy in the same position.
"I think what Legacy always felt like to me was a nurturing place," he said. "It was a place that I could come back to and, I mean this literally in the sense that I left Legacy and then came back a couple of years later. When I did, I was accepted with open arms in spite of all of my faults. It's a place where I felt unconditionally loved and accepted."
More recently, many of the top players coming out of the club have been on the girls side, where the group of young stars from the 1998-2001 birth years formed the nucleus of a Davis High School girls soccer team that won four straight Sac Joaquin Section titles while going 85-2-9, scoring 503 goals, and allowing just 37. During the run, current Legacy coach Sara Stone, Ashley Yudin's daughter, nearly equaled her father's record of section championships while bridging the gap to the next generation. Fellow Legacy coach Gaby Herrera (class of 2016) served as the elder statesman in a group of 12 future Division I players on those squads by making her debut as a freshman for San Jose State. Most of those 12 players spent much or all of their youth careers at Legacy. Class of 2017's Sidra Bugsch (Cal Poly), Julia Curtis (Santa Clara/Cal), and Tiffany Miras (Sacramento State) followed the next year. 2018 saw Ava McCray (Cal Poly/University of Arizona), Brooke Rubinstein (Cal Poly), and Mia Villegas (University of San Francisco/Loyola Marymount University) make the jump, before the class of 2019 became perhaps the most successful yet. That year's batch included Alana Curtis (UC Davis), Yasi Dmeiri (UC Davis), Maya Doms (Stanford), Paige Rubinstein (Stanford), and Skye Shaffer (UC Santa Barbara), the latter of whom is the daughter of UC Davis men's coach Dwayne. 
"Having just one club (in town) can be good or bad but we got really lucky because the one club we did have, there were so many of us who were so good," Brooke Rubinstein said. "On the high school team, there were 12 of us going to play Division I soccer. It could have been switched where our club wasn't good and we had to travel to Sacramento so I feel like it was really cool that we were able to play for a club in our town that was as good as we were.
"We were the first large group that went to these colleges," Rubinstein added. "I think Robbo alone put in so much work to get us there and help us create an environment where we were able to succeed and get to the next level. A lot of other kids at other clubs didn't have as many opportunities as we had."
Two of those players, Doms and Villegas, were able to parlay their successes with Legacy into youth national team setups, Doms with the U.S. and Villegas with Mexico (Bugsch also made a handful of appearances for the Philippines senior national team). In 2022, Doms (2010-19) was heading into her senior year at Stanford and still undecided whether or not to pursue professional soccer as a career. Regardless of what came next, she had already set the standard for every other Legacy girl who follows in her footsteps. While plying her trade for a side that advanced all the way to the ECNL National Semifinals, Doms became the first Legacy player to appear in a U-17 World Cup, taking part in the 2018 tournament in Uruguay. 
In retrospect, it seemed inevitable that Doms would take her game to the heights that it has reached, but just like for everyone else, it took a village. After coaches recommended her to take part in NorCal Premier Soccer's Player Development Program, an invite-only, free-of-cost initiative designed to gather the best players in the area, Doms was initially reluctant to participate. "I think having those great coaches, Robbo especially, really pushed me hard to go outside of my comfort zone," Doms said. "When I was pretty young going to PDP, my mom would literally have to drag me out of the car and I was bawling my eyes out because I was so nervous. My Legacy coach at the time told my mom that I needed to go because if I went to this then I would start playing in harder environments and get even better.
"Having coaches that were willing to push me outside of my comfort zone allowed me to get to my potential as a player and allowed me to play at the level I'm at now," she added. "I think Robbo is the best coach I've had still to this day. He made it easy to not even think about having to work hard because he made you want to work hard. Every practice was a competition and even though we were having so much fun, the level was always extremely high."
Community Benefits
As one of the largest and most successful clubs in all of Northern California, Legacy has been able to benefit the Davis community in so many other ways than just providing a quality soccer education and experience. With 54 total teams, nearly 1,500 players, and roughly 16 annual tournaments hosted, Legacy annually brings in roughly 80,000 people to Davis each year, many of whom wouldn't otherwise come. This, naturally, has helped local businesses flourish as, while being fully self-funded, Legacy's overall estimated economic value to Davis sits at around $20 million a year according to a recent study. Longtime residents have long known to stay away from the El Macero Shopping Center during Legacy tournament weekends as it might take upwards of an hour to get to the front of the line to order a Nugget sandwich.
"As a nonprofit, it is important for us  to help our local community and those players who may not have the financial means that would normally allow them to participate in soccer, " Howard said. "Through our robust financial assistance program, and annual donations to local school PTA auctions and other area nonprofit organizations, Legacy is able to give back to the community and its residents. Each year, we spend nearly $100,000 helping low- and moderate-income families achieve their dream of being able to play soccer at the highest levels. The collective good that we bring to the table is not to be underestimated. Developing solid people, on and off the pitch, and helping Davis residents and businesses flourish is a key goal of our business model. I love going to downtown Davis on tournament weekends and seeing the restaurants, hotels, and shops full of smiling families enjoying everything Davis has to offer.  That is a strong demonstration of our success and impact on the community."  
The Future
The beginning of Davis Legacy's future can be seen anytime one steps out onto the complex. Maybe the U16 girl will be inspired by coach Janae Gonzalez to one day come back to the club and provide the same high-quality coaching she received. The U19 goalkeeper may settle down back in the area after college and register his kids for the grassroots program. The U11 sitting with friends in the stands of Field 7 might become the next great Legacy first team or California Storm player.
Though the players are the most important aspect of the club's future, Davis Legacy is constantly striving to continue improvement in all aspects in order to give the best youth soccer experience possible. In 2022, the club started to reimburse the high fees that come with enrolling in USSF coaching license courses. With some running as much as $2,000, this has always been a barrier of entry for those looking to further their education. In the same vein, Legacy also established a requirement for each coach to, at a minimum, obtain a USSF or equivalent coaching license. 
The late 2010s and early 2020s also saw Davis bolster its coaching staff with the additions of several top minds including former Sacramento Republic FC manager and World Cup veteran Simon Elliott, who was added as the Boys Director of Coaching in 2019. In 2022, Legacy added Gordon Young, a longtime professional coach in the top divisions in Europe, as a technical advisor. New U9-U12 Director of Coaching Brian Seifert was hired while also serving as the technical lead for West 1 and West 2 regions of U.S. Club Soccer's coaching licensing program. Meanwhile, UC Davis assistant Jody Lingafeldt began a new role in 2022 as the club's official college advisor. With the emphasis placed on coaching education at the club, of the 41 coaches in 2022, 30 had completed at least their USSF or UEFA "D" License courses. In addition, two carried Pro Licenses, four held "A" Licenses, five had obtained "B" Licenses, and were qualified as "C" License coaches. Furthermore, six of that staff had grown up playing for Davis Legacy.
There was also new "hardware" in the works with plans to finally pave sections of the parking lot and add speed bumps to make the area more safe and eliminate the dust that cars or the everpresent Delta Breeze blows into the field. Other plans include a major cleanup of the northeast corner of the complex, which Howard and the board hope will one day be turned into a recreational area with an outdoor gym, a running track, a play structure, and bench seating. Lastly, Legacy's goal was to continue to invest funding into Field 7, eventually fencing it in completely, adding permanent benches with shade structures and a scorers table, and constructing a two story press box.
"It's not just like we sat down one day and decided we wanted to conquer the world," Robertson said when asked about all the progress the club had made in roughly three decades. "A lot of this has been hard work from many people behind the scenes. With the club on the field, we've reached a consensus with all of our programs to try to reach the highest level in the country."
The Legacy
Walk around the Davis Legacy Soccer Complex on a Saturday in 2022 and you'd be likely to run into the jovial, tanned, salt and pepper figure that is Josh Lutzker. Two years after his daughter, McKenna, last played for Legacy, the club's president was entering his 10th year in the post. While McKenna went onto play in between the pipes for Loyola Marymount University, her father still intently watched the latest youngsters as if she was still the field in Davis. He'd never been paid a cent by the club, but still he returned to the fields weekend after weekend. Stick around the place long enough and you'll see that he's far from the only person to do so. But why?
"The club was really good to my kid and she grew a lot as a person, as well as a player," he said. "She learned a lot through successes, failures, anything the sport will allow for. I'm a believer that sport is a great way to teach people life lessons and gives kids who need to play to get out of (tough situations), a place to play…it's kind of their happy place. I want to ensure that that is still available to anybody and everybody who wants that experience."
It was the same with Howard, who could often be spotted pacing the field, coffee cup in hand, while taking an important call through his Airpods. His daughter, Lisa, aged out the year before McKenna. "There's no doubt in my mind that the person she has turned into, large parts of it, came from her experiences at Davis Legacy," Howard said. "Because the club did that for my kid, I'm very happy with the fact that the board has entrusted me to help run the organization so I can help give back to all the other kids out here. I truly hope that they get to have that same valuable experience that she did."
Jim Bruner, the old Sidekicks manager, doesn't make it around as often as he used to, but still found time for lunch with Yudin, and always takes pride in the accomplishments of the club. "It's really cool, just to drive by the complex and see those lights on," he said.
Jalil Anibaba returns every offseason to help out with the Davis High boys soccer team, a program headed by longtime Legacy coach Alex Park, and has watched and admired the growth of the club from afar while continuing to perform at the highest level. "Just to see how much it's grown is amazing and a dream come true because Davis is through and through a soccer city," he said. "To have a place where all of our young players can go to develop and play through the night is amazing." 
Up until the conclusion of her college career, Brooke Rubinstein could often be found training with Girls Director and former Legacy player Jesus Mata at 8 a.m., hoping to stay sharp while rekindling old memories. "It's where I want to spend most of my time when I'm home, just out there training," she said. "The environment that has been created over the years is unreal."
Though he moved onto Chicago, Nate Boyden made sure to stop by Legacy whenever he was in town. Tragedy brought him back for his last stint with the club, but in it he found a welcome place to grieve with his second family. "Even in my adult life when I came back to Legacy, it seemed to be there for me in many ways," he said. "I came back (in 2019) largely because of my brother's death, but I obviously believe in the football project at Legacy. There's a football project here that's exciting and encouraging, but it was also about getting back to connect with my own roots, connecting with my own family after a devastating loss, and yet Legacy was there, the club was there for me even though it had been 20 years since I played for the club and I was a grown man with kids."
And then there was Doms, described as a "soccer junkie" by Sara Stone because while she played for Legacy, she seemingly never left the fields while the lights were still on. Doms would help with kids' camps and even served as Stone's assistant coach at club when she was still a teenager. "Being a Legacy player, what I got out of it, makes me want to give back to the club," Doms said. "After coming to Legacy, I got the chance to go to PDP and then US Soccer market training camps and then I just matriculated through that whole process to get to the national team."
Of course, even though he officially stopped coaching regularly in 2022 when he reached his mid-70s, Ashley Yudin still remained involved whether it was covering for other coaches, providing mentorship and advice, or telling jokes in the coaches' WhatsApp group. Yudin had two grandsons playing at the club and two granddaughters who had already aged out, yet he and wife Nancy could still be found on the sidelines for every game Stone coached and every game Stone's two sons played in.
"I just think that most clubs are transactional and we try to keep ourselves from being transactional," Lutzker said. "I think that a lot of that has to do with our coaching staff because the majority of them aren't there because it's their only job, they're there because they love it. Ashley was always adamant about the fact that we want coaches here who, not always, but for the most part, have other jobs. They're here because they love the sport and love working with kids. They don't see dollar bills running around the field, they see kids running around the field. No one is out here because they love the money."
Added Robertson: "We make mistakes of course but in general we want to instill a love of football in the kids who come out to play for Davis Legacy. We're always thinking about what our benchmark for success is. Maybe our benchmark for success is a player just trying out next year. Maybe it's moving players up from the white team to the red team. We talk about soccer a lot, that the ultimate goal is to develop a lifelong passion for soccer. It doesn't even have to be that the player becomes a great player, but when you see people who used to play for the club out watching a men's game or coming to see the California Storm play, or coming back to the club to coach, that's a lifelong passion for soccer. It isn't just about how our players play, but about how they live their lives. We just want people to love the game. Going on to play college soccer isn't the only way to find success. 
"I was talking to a parent the other day and she told me how much soccer has really helped their boys in both college and life because from a young age, they had to learn how to be part of a team, how to be responsible, how to take feedback. I've been lucky enough to see firsthand so many examples of that from the kids who have come through the club. Every time a kid comes back to visit, they always talk about how much the club has given them in their life."