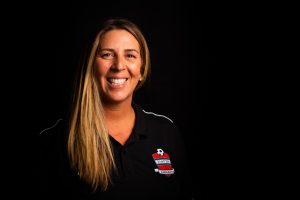 Sara STone
Credentials 
United States Soccer Federation – National "B" License 2000

United States Soccer Federation – National "C" License 1998

United States Soccer Federation – National "F" License 1995

NSCAA National Coaching Diploma 1995

Coaching experience 

DAVIS LEGACY SOCCER CLUB AUGUST 2005- PRESENT

HEAD COACH 

DAVIS SENIOR HIGH SCHOOL FEBRUARY 2012 – PRESENT
WOMEN'S SOCCER COACH

➢WOMEN'S VARSITY SOCCER COACH

BEACH SOCCER CLUB MARCH 2005- AUGUST 2005

HEAD COACH

GIRLS U-13 TEAM 

CALIFORNIA STATE UNIVERSITY, LONG BEACH FEBRUARY 2001-AUGUST 2004

ASSISTANT WOMEN'S SOCCER COACH

Development and Training – Assisted with individual training and overall team tactics. Responsible for team evaluations, trainings, and conditioning.

Recruiting – Shared responsibility for the recruitment of student-athletes. Contributed directly to recruiting with phone calls, campus visits, and evaluations of all high school and junior college players. Coordinated junior class recruiting efforts including mailings, evaluations, and contacts.

Administrative – Assisted with academic monitoring of students, team travel arrangements, equipment purchasing, and video and film editing.

Teaching- Kinesiology activity classes Weight Lifting and Soccer.

Fundraising – Involved in fundraising for team equipment and supplies via alumni and community donors.

Camps and Clinics – Coordinated summer camps and clinics. Responsible for hiring staff, camp curriculum, and supervision of all participants.
Playing experience 
➢ WPSL California Storm 2001-2002

➢ Division I Scholarship Athlete, California State University, Fresno 1995 – 1999

➢ Olympic Development Program, No. California State Team/Regional Pool 1995

➢ Davis Senior High School 1992 – 1995
Accomplishments 
➢ Top 20 National Ranking, California State University, Fresno 1999

➢ Western Athletic Conference Champions, California State University, Fresno 1999

➢ All Metro Section MVP, Davis Senior High School 1995

➢ Delta League MVP, Davis Senior High School 1994 – 1995

➢ Delta League Champions, Davis Senior High School 1993 – 1995